Virtual Research V8
July 2014
I recently scored probably my best purchase on eBay. I picked up a Virtual Research V8 and 2 InertiaCube 2 trackers from Intersense for $99.00 plus shipping. And everything works!! I'd also like to mention here that this is my 100th page on my website. I started this website on Geocities in 1998. It's come a long way!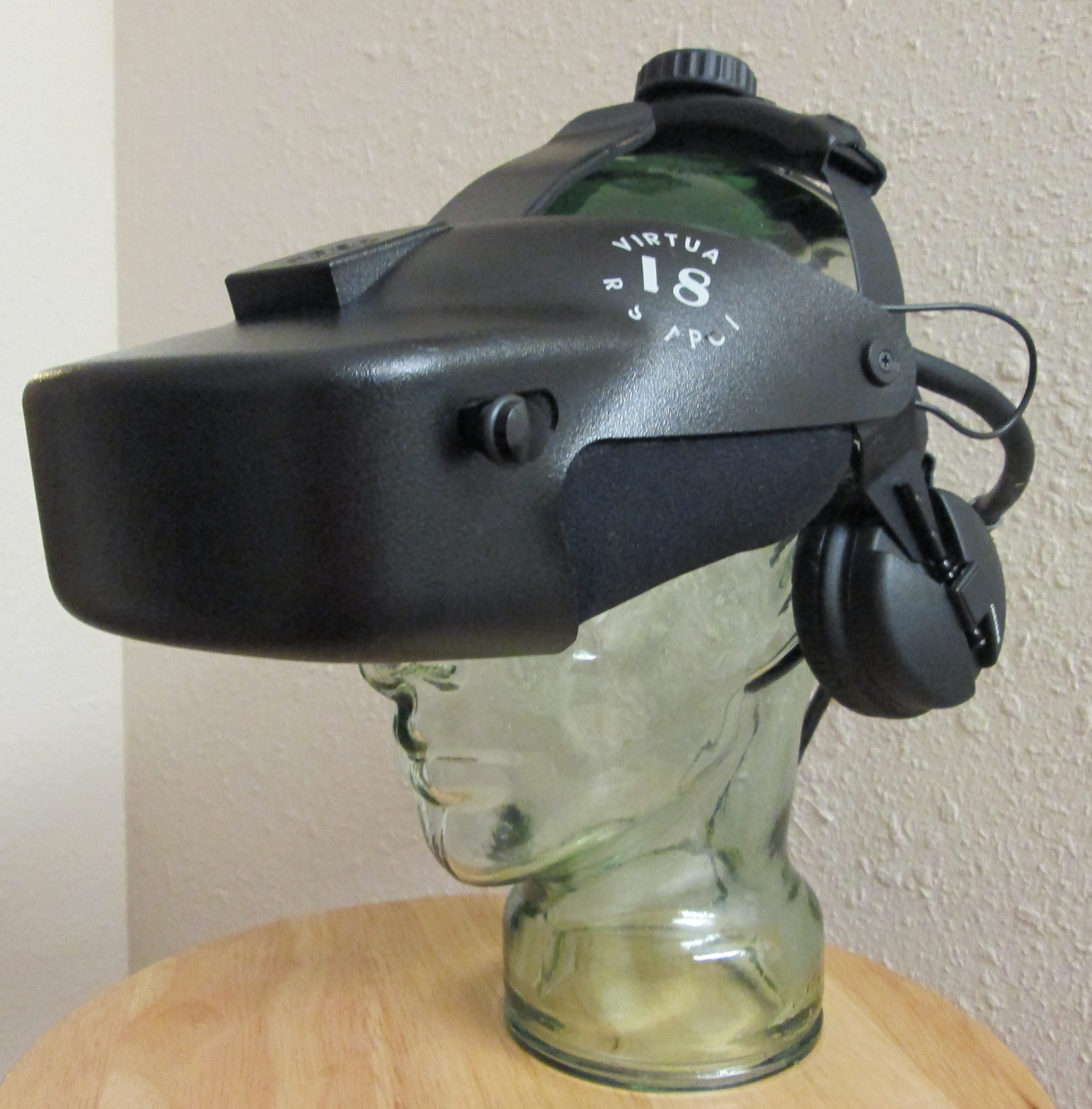 The Virtual Research V8 is a 640×480 version of the V6 which I reviewed here. Has the same control box as well as connections. I have NOT confirmed the V6 and V8 boxes are interchangeable and I probably won't for risk of damage. The fans on top of the boxes are slightly different otherwise they look identical.
Now this V8 isn't in the perfect condition that the V6 is but it works and it's a nice HMD. I really have a lot of respect for Virtual Research. Remember these HMDs were built in the late 1990's and to have a 60 deg FOV is really nice. We'll forgive them for the $13k price tag!!
Well not much to say about the V8. It's almost identical to the V6 except for the fan on the front which can be heard, or felt, however, it's not too bad with those really nice Sennheiser headphones. The resolution looks a lot better as you'd expect with a full 640×480. I can actually read text in Skyrim. Again, I use Tridef in dual projector mode to get 3D stereo in this HMD. Really cool.
The colors are what you would expect from an LCD based HMD, a bit washed out and not completely black. I find myself constantly tweaking the brightness and contrast during game play to have the best colors. This is especially true as I move from indoors, where it's darker, to outdoors where it's brighter in daylight scenes. I've also confirmed that in fact my V6 control box has a faulty contrast adjustment knob because it works as expected on the V8 control box.
Overall a very cool HMD that I'll hold onto for many many years to come. Probably because when I started in VR in 1998 there was no way I could afford a V8. For $99 bucks it's no problem now!!
Here's the manual for the V8.