Virtual Research V6
July 2014
I recently got my hands on a near mint Virtual Research V6. It was in an eBay auction through a 3rd party for Boeing. It even came with the original purchase order!! There were also some Virtual Vision HMDs and some head mounts in the package but I really purchased it for the V6. It looks completely brand new and was kept in what looks like the original shipping box. All for $200 USD. Love it.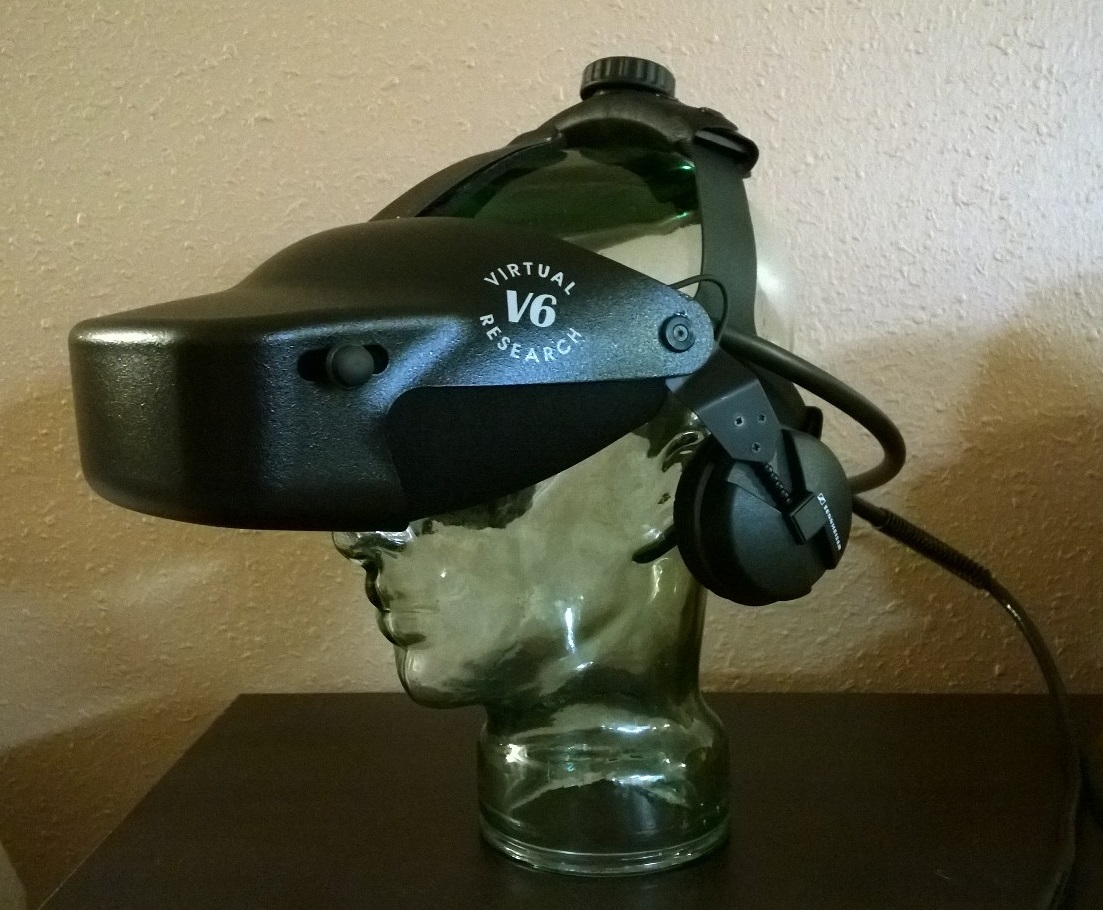 I have to say this is my favorite old school HMD now! Virtual Research did a really nice job. The Virtual Reality V6 originally sold for $13k with 640×480 (color elements, meaning 370×277 real color resolution) and 60 degree diagonal FOV (~50 deg. H.FOV). The optics are really nice with very little distortion. The eye box if fairly wide and I don't notice any vignetting. The V6 HMD has IPD adjustment and fore/aft and comes with a relatively comfortable head mount. The included headphones sound great and are made by Sennheiser.
| | |
| --- | --- |
| Front of Control Box | Rear of Control Box |
There's a control box associated with this HMD which provides dual input for left and right eyes as well as well as audio and mic. The video inputs are VGA so you'll need some adapters for current graphics cards. I use a DVI to VGA adapter on my one of my GTX 780Ti outputs and then a DisplayPort to VGA adapter on another output. There are other stereo formats supported but I use Tridef DDD in dual projection mode to play Skyrim with this HMD. You'll need to plug into the same graphics card to get dual projector mode to work in Tridef. I couldn't get Tridef dual projector mode to work with the left eye plugged into one GTX 780Ti and the other eye plugged into the other GTX 780Ti (I have a GTX 780Ti dual SLI setup).
There are brightness and contrast adjustments on the control box as well as a monitor pass through. The HMD connects to the control box through a long cable into a SCSI connector. The whole thing is powered by a large power brick.
Colors are not as vivid as you'd expect from an OLED based HMD like the Sony HMZ or eMagin Z800 but not bad for an LCD based HMD. The brightness and contrast controls can help control the image quality somewhat but you'll never have those true deep blacks. But even at the low resolution of the V6 I'm still amazed by the image in Skyrim. Nothing like putting a HillCrest FSM-9 head tracker on this unit and wandering around Skyrim. Such a surreal experience.
I really am impressed with this HMD even considering new HMDs on the market in 2014. If anyone behind what's left of Virtual Research put some OLED displays behind their design I think they'd sell like hot cakes. Getting the V6 in my hands makes me want to search out a V8 and VR1280. I'll be keeping my V6 for a very long time.
For more information on the Virtual Research V6, there's a great teardown video at Vrtifacts.com found here. The Virtual Research V6 product page still exists as well here.