Google Daydream VR with Pixel XL
Originally Nov. 19 2016
Updated Nov. 29th 2016
I purchased the Google Pixel XL phone on Verizon and received a free Daydream VR headset with it. I've had the chance to play with it a bit and wanted to give my impressions. I really ended up here because the Samsung Note 7 was recalled and the Google Pixel XL next was the closest thing. The Google Pixel XL has a 1440×2560 resolution 5.5″ OLED display. This is compared to the Note 4 Gear VR 5.7″ screen. The Google Pixel has slightly higher pixel density due to it's smaller size.
Display
When coupled with the Daydream View VR headset, the Google Pixel XL + Daydream VR headset, which I'll now call the Daydream HMD, has smaller field-of-view than the Gear VR. It's noticeably smaller. With the smaller FOV and with 1440×2560 pixels, the resolution in the Daydream HMD is also noticeably higher. Remember, resolution is a combination of number of pixels and lense FOV.
The screen door effect, and pixels you notice, is less but still there. This is particularly evident when playing VR Carts on both platforms. Text is much easier to look at on the Daydream HMD. The Daydream HMD has an overall darker scene than the Note 4 Gear VR with the Note 4 Gear VR having much more vibrant colors.
Another thing that I found surprising was that the Daydream HMD has a lot more display smear than the Gear VR. Very very noticeable when panning around and looking at text. In VR Carts you really notice this when looking at the speedometer.
Head Tracking
It also seems like the Note 4 Gear VR has more responsive head tracking. This may be due to the display smear being higher on Daydream so it makes it seem like the tracking is more sluggish. Either way, I can't help but feel that the Note 4 Gear VR head tracking is more responsive and somehow sharper. This is a bit surprising as the Google Pixel XL is so much newer than the Note 4.
Comfort
The Daydream HMD is very comfortable to wear and very light. It's also smaller all around than the Note 4 Gear VR Innovator edition HMD. However the Note 4 Gear VR feels more secure on my face. The Daydream HMD has a single strap which works best if it sits high up on your head almost like a crown. Otherwise the bottom of the HMD tends to pull away from your face. There's also significantly more light leakage on the Daydream HMD than Gear VR.
Peformance
VR Carts on my Note 4 Gear VR stutters here and there, where as on Google Pixel, it never misses a beat. I would expect this based on the Google Pixel XL being several years newer. Although the Note 4 does come close. However, using the Google Pixel as a phone, you can really tell how snappy it is compared to the Note 4. I'm guessing that performance boost will help all around in VR games.
Controller
On my Gear VR I use a SteelSeries controller which is quite nice and has all the normal controls you're used to with any modern gaming system. Although this isn't the native controller for Gear VR. The track pad on the side of the Gear VR is the main controller but I find I don't use it very often over my SteelSeries controller.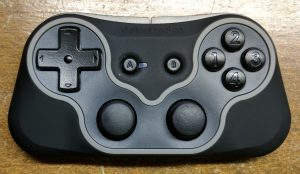 The Daydream VR HMD comes with it's own controller which has a trackpad, two main buttons on the top, and volume control on the side. It also has a accelerometer and gyroscope inside so you wave it around to interact with menus. In VR Carts you turn it sideways to use it like a steering wheel. It works pretty well although you constantly have to recenter which is somewhat annoying. You hold down the home button to recenter. You'll be doing it often. This surprises me a bit and I would have hoped they had this a bit more ironed out. You'll recenter every few minutes or so.

Content
The Gear VR has a ton of content by now compared to Daydream VR. I'm really surprised that Google didn't line up more content for launch. Daydream VR content is near non-existent with the best ones being Youtube VR, Google Street View, Invasion, and Hunters Gate. There are a few games and some apps but nothing even close to Gear VR. This also somewhat annoys me because both are Android devices. However, Gear VR is a walled garden and now I have to repurchase any VR content for my Daydream HMD. That just shouldn't be the case. Also, Cardboard games won't work on Daydream until they're updated. That's somewhat annoying as well and reduces content even further, although it keeps the crappy Cardboard apps (which there are thousands) off the more premium Daydream platform.
Conclusion
Overall the Daydream View VR HMD is nice, with good comfort, and leagues better performance than Cardboard. The HMD has a decent FOV and also implements smear reduction on the display. I'm impressed but can't help but come away with this feeling of slight disappointment. It has been a couple years since I first used my Note 4 in my Gear VR and I expected Google Pixel XL on the Daydream View VR HMD to be significantly better. It's not and I'm a bit disappointed about that.
I would imagine an S7 on a new Gear VR gets rid of those Note 4 mishaps in performance and would be an overall better mobile VR headset than Daydream View VR. I can't say for certain as I don't have the S7 setup but the Note 4 beats the Daydream View HMD in tracking performance, vibrant display, FOV, and content. The Daydream HMD beats the Gear VR in comfort, better controller, resolution, and overall performance. I thought the Daydream HMD would blow the Note 4 Gear VR out of the water. Unfortunately that just isn't the case. It does however make Daydream View the only real mobile platform contender to Gear VR.
Update 11-29-16
I'm becoming more and more impressed with the controller. Golfing in WonderGlade and shooting in ArcSlinger is impressive for a mobile system. The immersion in ArcSlinger is very convincing given the platform. As more and more applications become available, Daydream VR could become a strong contender to Gear VR.